Sage Data Check: When A Comment Is Really An Error
Do you pay attention to the comments and warnings as well as the errors?

When you exit Sage 50 Accounts, you are always asked if you would like to check your data before you back up? Do you always say yes to this? If you don't, you really should ...
copyright: sifotography / 123rf
If you want to find out more information about what to do if you have data errors, then take a look at my previous post Argh my sage has errors. What shall I do? and my other blog post, Good Housekeeping in Sage Accounts explains how to do a Sage data check.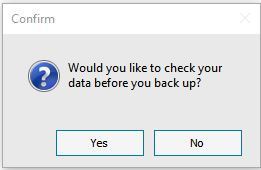 My client had data corruption earlier this week, which we were lucky to catch. A Sage data check brought up 0 errors, but the problem was in the comments section of the data check.
In the past, I have found data check comments are usually to do with how you use the software, so they don't raise alarm bells; they're things like budgets being negative or transactions posted in the future, but I tell my clients to be aware of them in case it flags up a data entry issue.
In this case, however, the comment in question was 'Account [code] has invalid currency' which, when you look it up in the Sage knowledgebase, means it could not be fixed within the software and the data needed to be sent off for repair.
"My client doesn't even have the foreign currency
part of the software turned on!
Luckily, we have a close working relationship with an ex Sage developer who fixes data in a fraction of the time Sage take, and at a fraction of the cost too. That means I can talk to the person actually fixing the data, so all is good for our client, but we could have easily missed this problem and the corrupted currency file which caused the problem could have created further issues down the line.
Do you do a regular data check? And do you pay attention to the comments and warnings as well as the errors which pop up? The first port of call for any new warnings or comments which do appear is to look them up on the Sage Data Repair Help Page. You can look up your particular problem on that page, and it will then guide you to the procedure you can follow to fix the issue, or suggest you send your data in to be repaired.
"Would you like to know more?"
If you'd like to find out more about data checks and fixes in Sage 50 accounts then do give me a call on 01604 420057 or click here to ping me an email and let's see how I can help you.
Until next time ...


ALISON MEAD