Good Housekeeping In Sage 50
You can avoid the costs of data repair ...

Do you practise good housekeeping in Sage 50? We often get enquiries from clients with errors in their Sage data which has to be sent away to be fixed ...
However, with good housekeeping, this cost could be avoided. So, what should you be doing on a day-to-day basis to help prevent errors, or give you the ability to return to 'clean data'?
"Sage recommends that you check your data regularly!"
Certainly, check it before taking a backup or after restoring your data too. I would also add that data should be checked when data has been imported. You check your data by going to File>Maintenance then clicking the Check Data, button.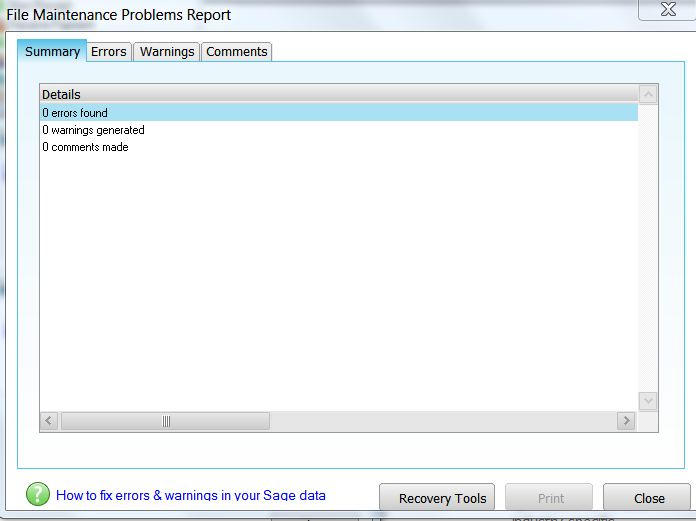 Sage then runs through your data, checking for input errors, internal inconsistencies, missing data, and invalid nominal account types, and presents you with the File Maintenance Problem Report. The report contains 3 pages - Errors, Warnings, and Comments.
File Maintenance Problems Report:
Errors show data problems.

Warnings indicate serious problems which should be attended to, but are not as serious as errors.

Comments are usually the least serious, and often refer to inconsistencies which probably exist just because of a perfectly valid way that you are using the data - e.g. future dated transactions, negative budgets or negative balances on the sales or purchase ledger.
I would always recommend that you seek help from your local Sage Reseller, or from Sage Support if you have errors or warnings, and you should never carry on using data with errors, but immediately seek assistance.
The File Maintenance Problem Report will look different in Sage 50 2012 and newer versions compared to older ones. In 2012 and above you have Recovery Tools, and in earlier versions, there is a Fix, button.
"I will go into more detail on what to do if you have errors in a later blog post!"
If you always do a data check before running a backup and also back up when you have done any data entry, then when you find errors which can't be fixed using the Recovery Tools or Fix, button you will always have the option of restoring your last known clean data and then re-keying your recent transactions.
The problems arise if you back up without checking data first, so all your backups may well also contain the error. This is the point at which your data needs to be sent away to be fixed.
So, 3 simple rules for Good Housekeeping in Sage Accounts:
Check your data

Back up your data

Stop for Errors
If you follow these rules you should find you never need to send your data away to be fixed.
Sod's law states that if you do practice good housekeeping, then your data will never corrupt! Get in touch if you do get problems as we can provide a Data Fix Service quicker and cheaper than having Sage Cover if you do need it.
"Would you like to know more?"
If you'd like to find out more about housekeeping in Sage 50, do give me a call on 01604 420057 or click here to ping me an email and let's see how I can help you.
Until next time ...


ALISON MEAD

More about Alison Mead ...
Alison loves bookkeeping and supporting bookkeepers. She has been helping clients to be better bookkeepers in Sage 50 for over 24 years and has been Xero Accredited in accounts and payroll for a number of years too.

She specialises in a very unique hand-holding method of training, helping bookkeepers and business owners to use their accounts software as and when they need support in setting up and producing their invoices, reports and financial information.

Alison combines her role at Silicon Bullet with her Forever Living network marketing businesses and is often to be seen at business networking meetings as she likes to keep busy.

You know what they say: if you want something done well ask a busy person!



| | |
| --- | --- |
| Telephone: | 01604 420057 |
| Website: | |