Sage Instant Crashing When Running Year End
This only happens on Windows 10 ...

I was bookkeeping using Sage Instant Accounts 2014, and we needed to run a year-end. Unfortunately, Sage stopped working with a not very helpful error message ...
copyright: antonioguillem / 123rf
What on earth does "SBDDesktop.exe has stopped working" mean? Well, whatever it meant, the computer closed down Sage and returned me to the Windows 10 desktop.
"I was not pleased at all!"
On restarting Sage, I needed to force the system to log out the 'manager user' in order to do a data check, and then I had to check the data to ensure nothing had corrupted. Thankfully, in this case, there were no problems.
Sage had created the year-end archive, but the other year-end tasks of rolling up all the profit and loss nominal codes, and changing the current financial year had not been done.
Sage support is aware of an issue with some installations of Sage Instant Accounts 2014 on Windows 10 machines if you use the 'lock date' feature in Sage.
I personally did not have the lock date setting option switched on, however, I had ticked the option to switch on the lock date as part of the year-end process.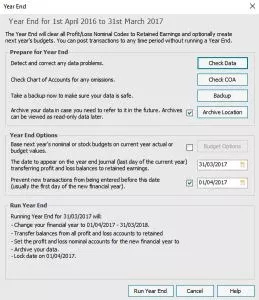 I unticked the 'prevent new transaction from being entered before the date option' and the year-end process ran through absolutely fine. Problem solved!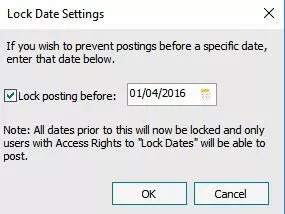 So, if you get this problem too, try unticking the 'prevent new transaction from being entered before the date' option and also make sure the 'lock date' option in the settings menu is also switched off while you run the year-end process.
Once you are back processing the next year you can switch the option back on again to prevent you putting transactions through for the previous year in error.
"Would you like to know more?"
If you'd like to find out more about Sage Instant for your business and need someone to set it up and train you up on it, then do give me a call on 01604 420057 or click here to ping me an email and let's see how I can help you.
Until next time ...


ALISON MEAD