Argh! Sage Data Errors! What Shall I Do?
First things first, don't panic ...

There is nothing quite like the sinking feeling you get when you run a data check and find you have Sage data errors. We go months with no one having any problems at all then have we get several enquiries close together ...
Sage data errors can happen at any time and usually when you are least have time for them. If you are a Sage 50 user and don't actually know what I am talking about then you need to learn some housekeeping basics. But what can you do if your Sage data has errors?
"First things first, don't panic!"
Take a backup of your data, so that if anything goes wrong with your attempts to fix the data you can always get back to how your accounts look today. I would change the name of the file to include 'with errors' in the name, so as to easily identify it.
If you have a version of Sage older than Sage 50 2012 you can use the 'Fix Button' on the File Maintenance report to attempt to fix the data. This often fixes the problem by Sage rebuilding your data again from scratch using your original transactions.
If you 'fix' the data and no errors show up when the data check is run again, you can carry on as usual. I would make sure though, that bank balances are correct and would check balances on all or a random selection of customer and supplier accounts, just to make sure everything is fine.
In Sage 50 2012 and newer versions, you are faced with the new 'Recovery Tools' option. Next to Recovery Tools is a link called 'How to fix errors & warnings in your Sage data' which takes you to the My Data area on the My Sage website.
Here you will find information on how to avoid corruption, a list of non-fixable errors, and Sage's Data Repair Service. There are also links to useful articles about data repair and updating your software.
To access this help, you will need to have a login to the Sage website set up; if you don't have Sage Cover then you will not have access to some of these areas and links, in which case your local Sage Reseller will be able to help you out.
"How do the Sage Recovery Tools work?"
If you click on the recovery tools option you will first be prompted to take a backup before you can do anything else. The following screen then gives you eight options which could fix your data. You do get guidance on which area the error is in so it should be fairly obvious which tool is required.
If the attempt to fix your data fails, and you still have errors listed, then you can go back to your last clean backup (one with no errors) and restore the data. You will then need to re-key any data that you had entered since that date. There are more tricks which are too detailed to go into here.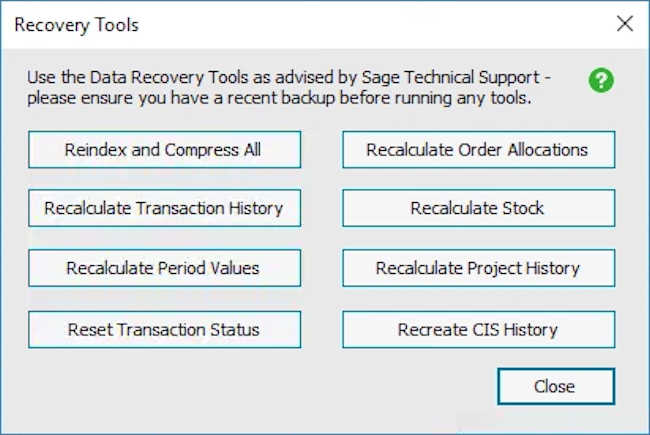 If you do not have a clean backup or the time it will take to re-key data is just not practical, then we do offer an alternative to the Sage Data Repair Services through a business partner who was a developer at Sage for many years.
The service offered is cheaper than Sage and the data in previous cases has been fixed out of hours for us and returned to the client for the next morning, meaning any disruption could be kept to a minimum. This depends on the availability of our business partner, but it is worth calling us and asking for our opinion.
"Would you like to know more?"
So, if you have Sage data errors then don't panic, but do give me a call on 01604 420057 or click here to ping me an email and let's see how I can help you.
Until next time ...


ALISON MEAD