Why Use Access Rights In Sage 50?
Single-user or multi-user?

Many users of Sage 50 are unaware of the capability of adding multiple usernames to their accounts software. You don't just need to use the manager password ...
If you are a sole user of the system this feature isn't so important, but I meet many companies where multiple staff members use a single user version of Sage 50.
"For them, setting up access rights could
be really useful!"
In Sage software before Sage 50 Accounts v23.1, a password was not required to be set up for the manager login (which is the equivalent of an admin account for Sage). This changed with v23.1. If you log in as Manager on this software you will be required to set up a password.
With changes in GDPR legislation, and the requirements to protect our data, this requirement to have a password is another layer you can add to adhere to the legislation changes.
I always stress to my customers the importance of not forgetting this password for the manager login, as there are a few admin tasks that can only be done when you are logged in as the manager, but if you rarely use the login, it is a password you could easily forget.
"Record it somewhere safe, and I don't mean on a post-it note by your computer!"
Access Rights are not just available in multi-user versions of Sage. Anyone who has multiple staff accessing their Sage software, even on a single user license, can still switch on Access Rights and allow each user to have their own unique log in.
The system records which user was logged into the system when every transaction was created. This means if there is a query about the transaction you always know who did the work originally, which can save a lot of time and effort in the future.
You can also set up different levels of access for each username too. So, if someone needs access to the sales ledger, but you don't want them seeing the bank balances or management reports, then you can adjust the settings accordingly.
Often, owner-managers start by using Sage themselves and then as they become busier, the bookkeeping is a task which can be delegated or outsourced. It can be hard to allow someone else access to your sensitive financial information so allowing limited access rights to other users can get around this problem.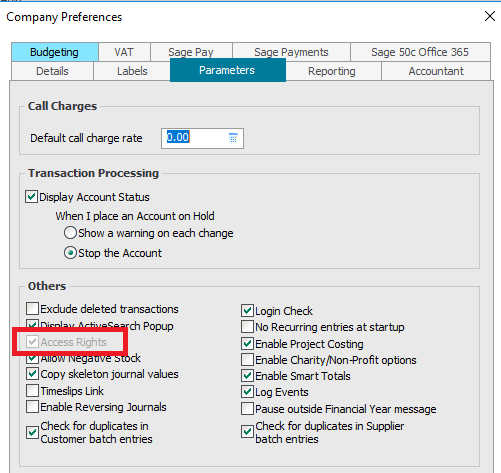 In single user versions, to enable the Access Rights option, open the Company Preferences>Parameters menu and select the Access Rights check box. In a multi-user system, this check box is already ticked and greyed out.
"Would you like to know more?"
If you would like further help and advice on any aspect of managing your Sage 50 accounts software and your access rights then you can give me a call on 01604 420057 or click here to ping me an email and let's see how I can help.
Until next time ...


ALISON MEAD

More about Alison Mead ...
Alison loves bookkeeping and supporting bookkeepers. She has been helping clients to be better bookkeepers in Sage 50 for over 24 years and has been Xero Accredited in accounts and payroll for a number of years too.

She specialises in a very unique hand-holding method of training, helping bookkeepers and business owners to use their accounts software as and when they need support in setting up and producing their invoices, reports and financial information.

Alison combines her role at Silicon Bullet with her Forever Living network marketing businesses and is often to be seen at business networking meetings as she likes to keep busy.

You know what they say: if you want something done well ask a busy person!



| | |
| --- | --- |
| Telephone: | 01604 420057 |
| Website: | |